For Immediate Release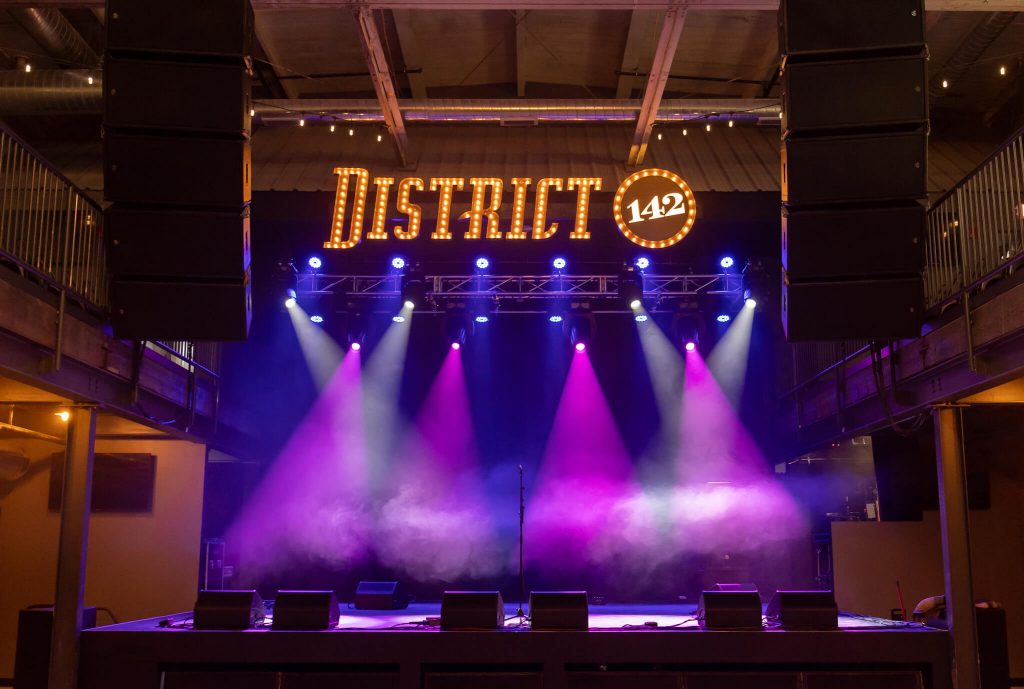 WYANDOTTE, MI (March 9, 2023) Late last year, District 142 announced plans to open a new live music and event venue in Downtown Wyandotte. District 142 sits in the heart of town and is a century-old two-story, 15,000-square-foot building that has been transformed into a multi-use event space that will host national rock and country artists, regional and local bands, themed events, weddings, and private parties.
The stage is set and the venue is throwing open its doors on Saturday, March 11 at 6 pm for The Four Horsemen – The Album-Quality Metallica Tribute. District 142 is set to accommodate a year-round show schedule with a capacity of 700.
District 142 announced its first concert, Eva Under Fire, Kaleido, and Fatal Conceit and in just over 30 days it sold out. Promising to be a rock and country music venue, District 142 has announced classic rock legends, Foghat and Mark Farner's American Band, heavy rockers Saliva, Winger, Powerman 5000, Saving Abel, and new wave The Flock of Seagulls + Strangelove – The Depeche Mode Experience. Just recently they announced outlaw country artist, Alex Williams and New Country 93.1 Goose & Renee's Secrete Superstar Birthday Bash. Concerts are announced weekly and are already scheduled through the end of the year.
The venue is also welcoming national touring tributes including The Nations #1 Yacht Rock Band – Yachtley Crew, That Arena Rock Show, and Jump – America's Van Halen Experience.
District 142 is positioned in the center of town on Maple Street. This position allows them to host events inside and outside on the street. St. Patrick's Day weekend, District 142 is hosting a two-day indoor/outdoor street party featuring live Irish music and dance during the day and party bands at night. Vodka Social, a sampling event with live music, will be taking place on April 21. Swiggin' Pig BBQ is a summer festival that features live music, whiskey tasting, and a carnival. With the festival being adjacent to the music venue we have more opportunity to feature more live music.
Julie Law and Joshua Cade jointly own District 142. Law and Cade combined their backgrounds in hospitality, event production, and marketing to form an event production company in 2017 which has gone on to create a series of popular festivals in Downtown Wyandotte.
"The venue turned out better than we ever expected. It's industrial but elegant. The sound and lighting are over the top. We wanted to keep the building's charm, but have everything made from scratch, with a beautiful staircase crafted with the original wood from the early 1900 rafters, custom-made channel letters with Edison lights over the stage, and a theater marquee and sign outside. Even our bathroom partitions are handmade by local welders" says Julie Law, co-owner.
She continues, "We are completely overwhelmed with the outpouring of support and excitement for the new venue. People are coming from all over the country to see shows at our venue. National touring bands are contacting us to play on our stage. The community is so happy to finally have a live music venue in the Downriver area."
Josh Cade, co-owner, also owns several restaurants and bars in the area, drives home the importance of the venue bringing new fans to the City of Wyandotte. "It's important to host events for the community which support our local businesses. It's just as important to bring new people to our thriving town to showcase what it has to offer."
For a complete listing of concerts and events visit www.District142live.com Follow District 142 on Facebook for the latest concert announcements https://www.facebook.com/District142LIVE
District 142 is located at 142 Maple, Wyandotte, MI, 48192.